February 16, 2022
|
Publishers
Dailymotion and Lokmat partner to engage Marathi Audiences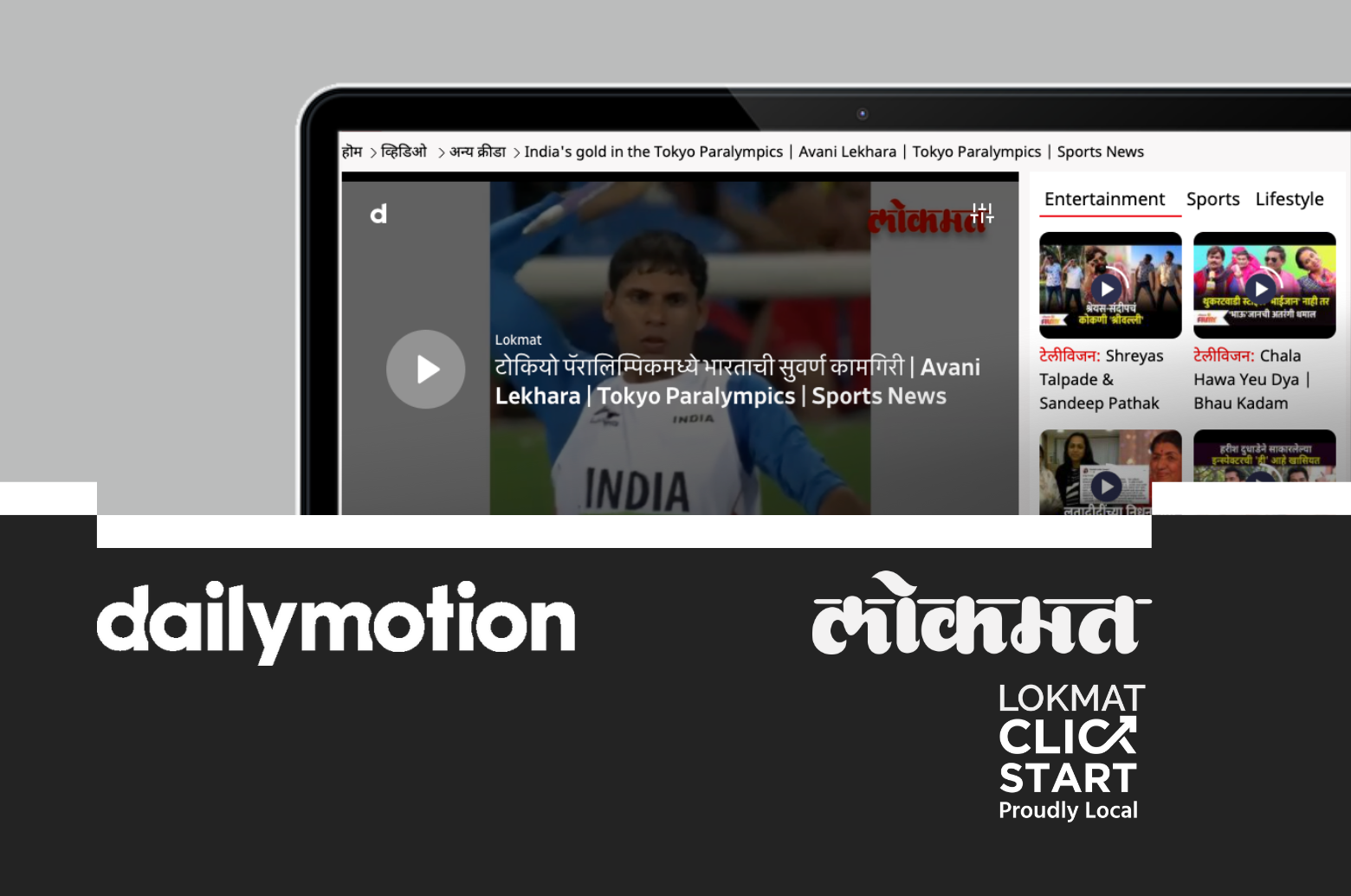 Dailymotion has recently partnered with Lokmat ClickStart, the Digital arm of Lokmat Media Group,  Maharashtra's No.1 read newspaper, to provide them with an advanced video Player solution capable of delivering a seamless video experience to the Marathi audiences across multiple digital products, owned and operated by Lokmat ClickStart. 
As part of Lokmat ClickStart's diversified portfolio of digital products, Lokmat.com is Maharashtra's No.1 online news and infotainment website with 15.19 million monthly unique visitors consuming 141 million page views (Comscore MMX Multi-platform Media Trend Report Dec'21). Through this partnership, Lokmat.com will be able to deploy Dailymotion's robust video Player solution with no investment while creating a new revenue opportunity. The same solution would then be extended to other Digital products managed by Lokmat ClickStart.   
Hemant Jain, Sr.EVP & Head of Digital Business at Lokmat said: "Video is the fastest-growing mode of content consumption nowadays, especially when it comes to regional languages. At Lokmat ClickStart we have a huge focus on building a diversified portfolio of digital products for our Marathi-speaking audiences with the video-first and mobile-first philosophy. Currently, we create over 1000 original videos every month for our products across news & information, spirituality, entertainment, health, food, beauty, fitness, live shows, and many more!" 
He added, "Lokmat ClickStart being amongst the top video content publishers in Marathi infotainment space has always looked for the right strategic partners for better consumer experience. We are extremely delighted partnering with Daily Motion for their expertise in the video space." 
Through the cross-device Dailymotion Player, Lokmat ClickStart will easily benefit from Dailymotion's proprietary SSP and integrated ad platform to sell its own ad inventories. Dailymotion will also support and enable Lokmat Clickstart's innovative approach in the video ecosystem while leveraging Dailymotion's Publisher network and its global audience of 350 million users. 
"We're thrilled to welcome the largest Marathi news media brand in our rapidly growing partner program and have been extremely impressed by the forward-thinking of the leadership at Lokmat in their ability to embrace the massive OTT opportunity" commented Antoine Nazaret, Vice-President of Dailymotion, APAC, "Dailymotion fully understand how publisher ecosystem is structured, thus how our video solution will enable them to boost their audience engagement and revenue. This is yet another major milestone in expanding our business in India."