October 15, 2020
|
Publishers
Dailymotion partners with Contentos to stream premium content on COS.TV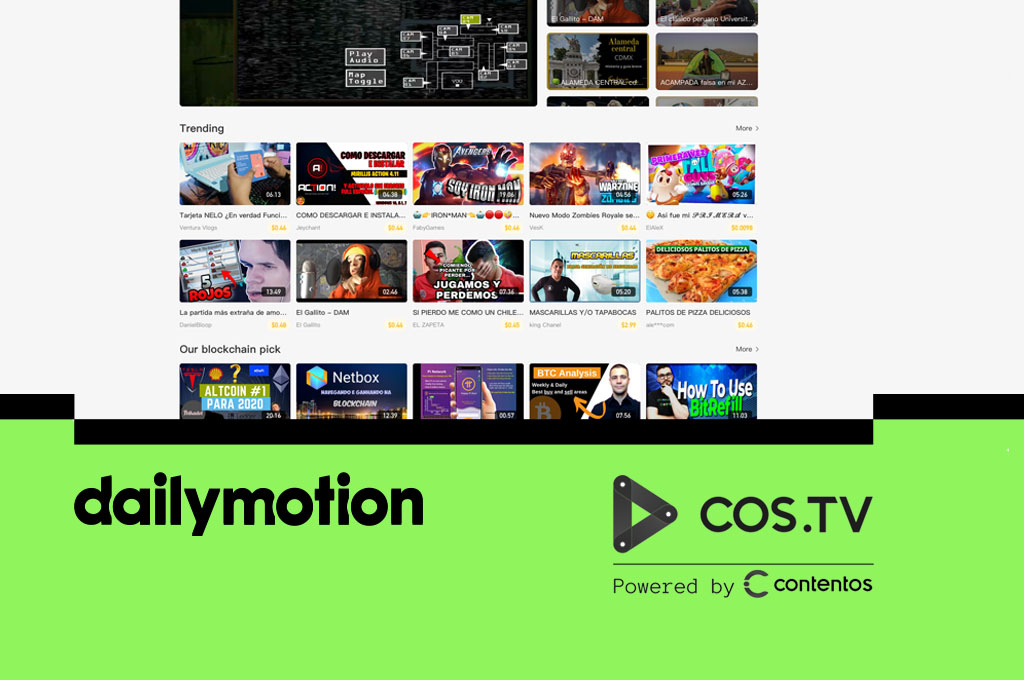 COS.TV, the first video platform powered by Contentos blockchain, is now using Dailymotion's video player technology as well as its premium video content catalog to enrich its editorial offer.
On COS.TV, users (mainly from Korea, India, Vietnam, and Latin America) can watch their favorite videos, share content, join the community with their friends and get COS rewards. This new content ecosystem is powered by Contentos, a blockchain protocol that aims to form the foundation for a decentralized digital content ecosystem that empowers all members, including creators, consumers, and advertisers, to earn a fair compensation for their contributions.
Dailymotion is now partnering with COS.TV and Contentos to enrich the video watching experience by making its premium video catalog available to them. This includes videos from Le Monde, l'Equipe, BeIN SPORTS, JPI Media, Marie Claire, NBA G League, Media Prima, Network 18, and many others.
"We are proud to distribute our large catalog of premium video content to such a big number of publishers, now including COS.TV. Thanks to this partnership, the platform will benefit from our partners' video content, while Dailymotion will reach new audiences", said David Rozencwajg, Head of Dailymotion's Publisher Program.
"We are honoured to have this collaboration opportunity with Dailymotion. This partnership has allowed us to broaden the variety of content to our existing audiences and also, further our reach to new audiences. More importantly, this partnership has further closed the gap between mainstream media partners and blockchain companies", said Mick Tsai, CEO & Co-Founder of Contentos.
Today, Dailymotion is the main player technology and video discovery platform for media groups across the globe.  Its video platform commands a global audience of 300 million entertainment-seekers surfacing the most relevant premium video content. Dailymotion is also a large video content provider to publishers that do not produce their own video content, such as MSN, Bing, or Orange.