March 7, 2022
|
Publishers
Dailymotion partners with Khaleej Times to strengthen audience in the United Arab Emirates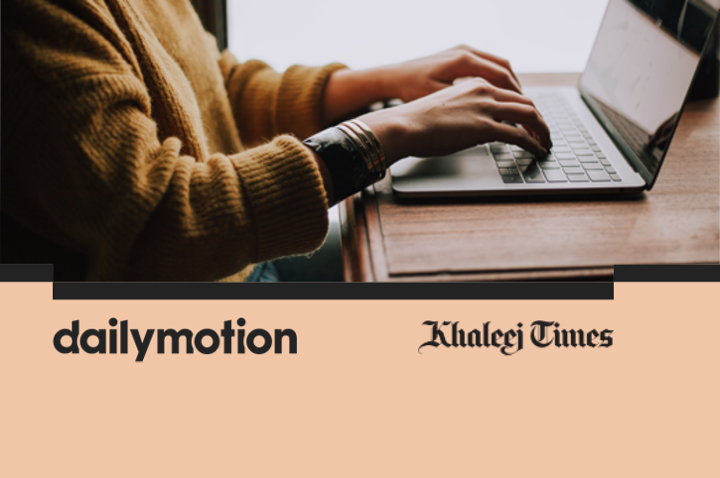 Dubai-based English-language newspaper Khaleej Times extends its video catalog to the Dailymotion platform and implements it on its properties. With that partnership, Khaleej Times joins a large ecosystem of over 2000 publishers. 
Khaleej Times is the oldest English-language daily newspaper in the United Arab Emirates. Be it print, digital or social KT fulfils this promise with unparalleled news, comment and opinion delivered by award-winning journalists. With KhaleejTimes.com and its various social media platforms, KT has a formidable digital footprint, boasting of the best reach and audience engagement in the UAE. 
One of the region's leading English-language digital news platforms continues to diversify by associating with Dailymotion. This partnership with the French platform will enable Khaleej Times to maximize video revenues and minimize operating costs. 
A partnership to reach and inspire new audiences 
"This year according to Cisco, online video will make up more than 82% of all consumer internet traffic which is 15% higher than back in 2017" explains Sohail Nawaz MBE, Chief Digital Officer. "Choosing the right video partner that enables us to harness online video consumption growth is pivotal to our audience engagement strategies. We're delighted to be working with Dailymotion as one of our key strategic partners and we look forward to partnering with them to enhance the video experiences of our local and global audiences." 
For Rémi Leclancher, VP Partnerships, EMEA at Dailymotion, this partnership is an opportunity to engage local audiences by using the French platform's technology: "We are delighted to start a partnership with Khaleej Times, UAE's leading English digital news platform. Our partnership with Khaleej Times testifies our commitment to the publisher's ecosystem – already helping publishers and broadcasters pivot to digital video and with tremendous scale, now local publishers will be able to access our advanced streaming technology so they can deliver more personalized experiences to their end-users. Our partner, Khaleej Times, can finally focus on what matters most — creating videos that excite, engage and inspire…" 
–       Learn more about Khaleej Times