January 14, 2020
|
Publishers
Dailymotion accelerates its video solution business for publishers in Korea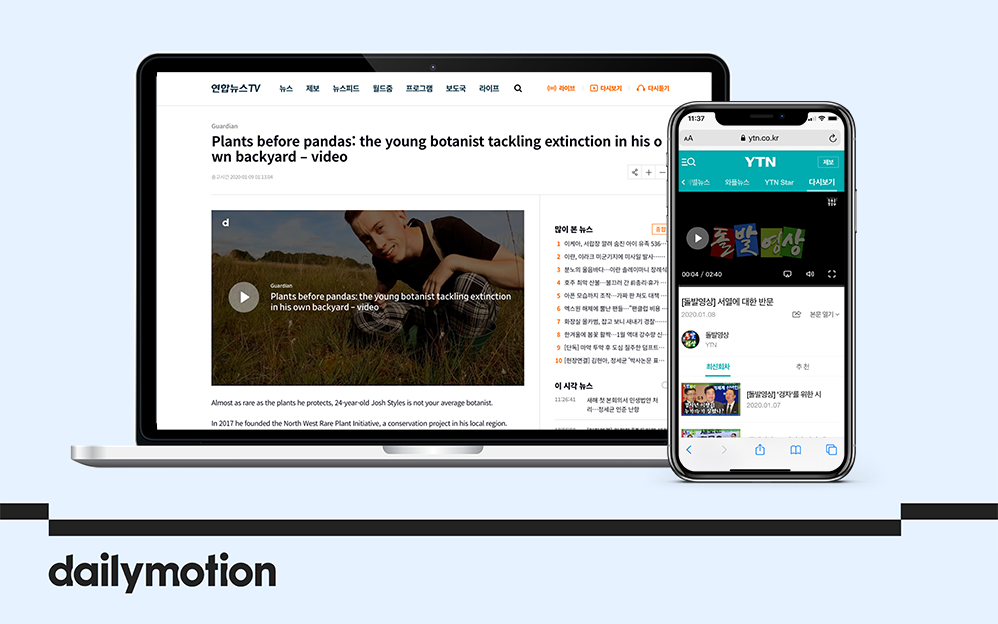 Joining Hands with YTN, YonhapnewsTV and HuffPost Korea, Dailymotion Provides Its Video Solution at No Cost
January 15, 2020 – Dailymotion, a global video streaming and distribution platform, announced its plan to accelerate their video solution business in Korea to support local publishers. 
Partnering with world-renown publishers like NBA G-League and L'Équipe, Dailymotion has been hosting and providing its video solution to MBC Sports+ and TV Chosun in Korea at no cost. In the last quarter of 2019, Dailymotion joined hands with YTN, YonhapnewsTV, and HuffPost Korea, as a mark of their commitment to serve more publishers in Korea.  
Dailymotion's video player supports all significant features, including 4K UHD, live streaming, and copyright protection. Publishers can customize its features and layouts to be aligned with their audiences' needs, as well as build their content strategy based on advanced analytics. 
Dailymotion allows publishers to keep advertising revenues up to 100% and monetize more than 70 millions of third party video content in addition to their own. 
Providing its partners with multiple revenue streams, HuffPost Korea is taking advantage of Dailymotion's third-party video catalogue to supplements text articles, while YTN embeds videos on its mobile VOD. To further enrich their new catalogue, YonhapnewsTV's global news section, "Worldzoom", also uses third-party content from international news media like, Guardian, Newsweek, France24, South China Morning Post, and more.
Chul Hong, Head of Video Solution, APAC commented, "The quality of K-content is outstanding and we are more than willing to expand our technical support for publishers who produce such quality content in Korea." He also emphasized, "Dailymotion's vision is not to compete with media, but to cooperate within the content ecosystem."
Find out more about Dailymotion Video Solution here: www.dailymotion.com/dm/partner
Picture caption: Screenshots from YonhapnewsTV's 'Worldzoom' and YTN's mobile page.
About Dailymotion
Dailymotion is the video platform for discovering the events and ideas that keep the world surprising and diverse on four main topics: news, sports, music, and entertainment, as well as comedy skits, political debates, fashion shows, gaming live-streams and more. Launched in 2005, Dailymotion commands a global audience of 300 million entertainment-seekers who frequent the site and its dedicated mobile experience to surface the most relevant professional video content based on their unique tastes and interests. Dailymotion is owned by Vivendi, a Paris-based multinational media company. For more information, visit www.Dailymotion.com