April 25, 2018
|
Publishers
Dailymotion Releases Update to Player Technology to Support the Evolving Needs of Digital Publishers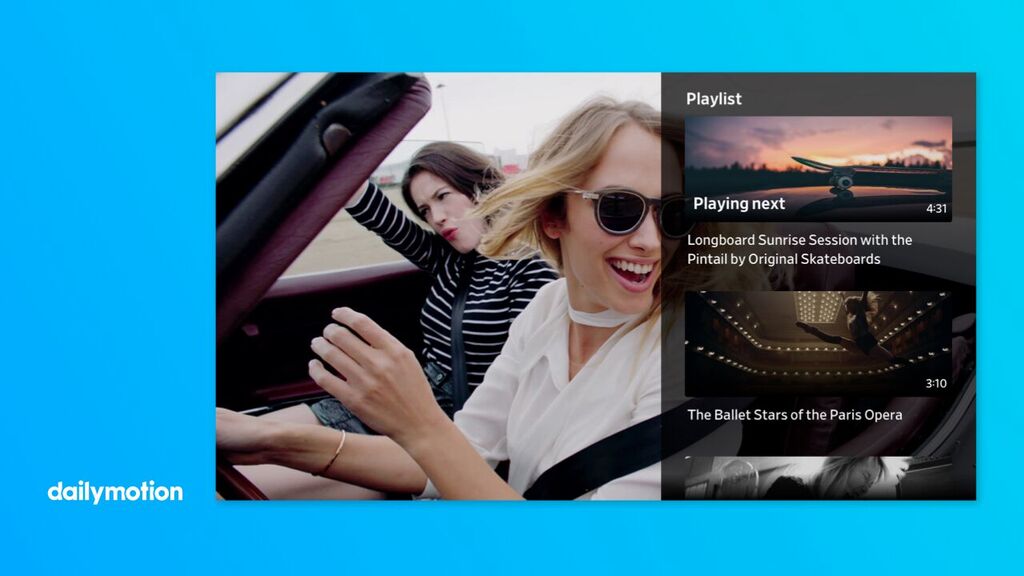 The New Features Led to a 17 Percent Lift in Views Per Session in Beta Test
NEW YORK, NY—April 25, 2018—Dailymotion, a leading video player technology and content discovery platform, has released a new version of its online video player offering for publishers. The Dailymotion Player allows companies to deliver flawless streaming experiences across their owned properties and automatically syndicate their content to a broader audience via Dailymotion's global publisher network.
Building upon Dailymotion's industry-leading player technology, the features are designed to boost user engagement and improve publishers' ability to customize video experiences within their own websites and mobile apps. In beta tests of the new player technology, partners saw a 17 percent lift in views per session and a 10 percent lift in viewable ad inventory.
New features included in this release:
Up Next Queue: Keep site visitors entertained and engaged by automatically queuing up a relevant video after each completed play.
Enhanced Branding Options & Watermarketing: Make your player your own by changing the seek bar, settings, and highlights to align with your brand. Add a hot-linked watermark directly to fully customize your player's call-to-action.
User Engagement Tools: We've made it even easier for users to spend time with your videos. Expanded accessibility features include touch navigation on mobile (slide backward or forward), full keyboard navigation controls, publisher-enabled subtitles, customizable video playback speed, and compatibility with assistive technologies.
Publishers that utilize the Dailymotion Player benefit from built-in audience growth and monetization opportunities via syndication tools that surface premium videos to 300 million people globally across desktop (dailymotion.com), mobile (iOs and Android), and OTT (Apple TV, Android TV, Xbox One, and Amazon Fire TV).
"This evolution of the Dailymotion Player underscores our attentiveness to the evolving needs of today's publishers, who must shift their strategies to optimize for audiences on their own properties and across third-party platforms," said Guillaume Clément, Chief Product & Technology Officer at Dailymotion. "This update is designed to increase viewer engagement and help publishers expand their audience via our premium publisher network."
About Dailymotion:
Dailymotion is the player technology and video platform for discovering the events and ideas that keep the world surprising and diverse on four main topics: news, sports, music, and entertainment, as well as comedy skits, political debates, fashion shows, gaming live-streams and more. Launched in 2005, Dailymotion commands a global audience of 300 million entertainment-seekers who frequent the site and its dedicated mobile experience to surface the most relevant professional video content based on their unique tastes and interests. Dailymotion is owned by Vivendi, a Paris-based multinational media company. For more information, visit www.dailymotion.com.