December 20, 2018
|
Publishers
DLive Partners with Europe's Largest Content Platform, Dailymotion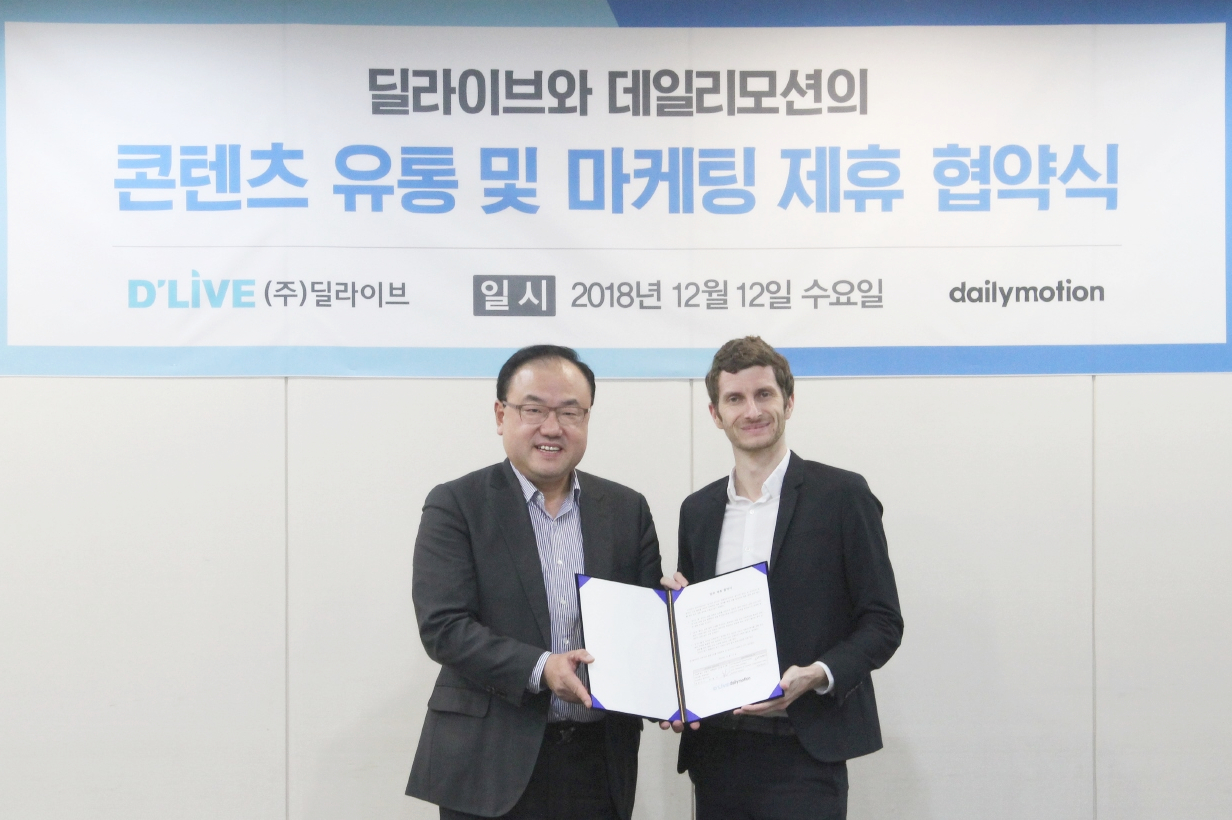 SEOUL, KOREA — DLive, a digital OTT set-top box service provider, has partnered with Dailymotion, a leading video content discovery platform, to differentiate their content strategy on DLive Plus OTT.
Starting on December 20th, DLive plans to install dailymotion's TV application, which has been improved to match the same experience on mobile so that users can enjoy dailymotion's content on TV screens.
Last July, Dailymotion completely revamped its platform to shift its focus from UGC to premium content made by the best content producers. Users from all over the world can now enjoy this content through dailymotion from global partners such as CJ ENM, YTN, 72SecTV, Glance TV, CNN, Billboard and T-series.
Meanwhile, Dlive Plus OTT is leading the Korean market by selling over 300,000 set-top boxes and offering more than 30,000 videos of free content ready for users to watch. With this partnership, Dlive Plus OTT has secured another premium source of high-quality content.
Antoine Nazaret, Vice President of dailymotion APAC said, "Through our OTT platform, dailymotion hopes to bring the viewer even closer to premium publishers and quality content. We want to close the gap and together through this partnership with DLive, we can enhance the experience of video watchers with our local and international content"
Jeon-yong, Joo, CEO of DLive said, "We are very happy that DLive Plus, which is leading the OTT market in Korea, is able to provide global premium contents to our users through our partnership with dailymotion. We will co-operate closer to create a win-win strategy for each party, and DLive Plus will do its best to provide the most trendy content."
During an event on December 12th, DLive and dailymotion formally gathered to announce the partnership.
About DLive
DLive Plus is a leading OTT set-top box service provider in Korea. Started in 2016, DLive Plus provides more than 30,000 video contents from entertainment, news, lifestyle, sports, kids and education making it easy for users to enjoy their favorite video content on bigger screens.
About Dailymotion
Founded in 2005, dailymotion is a global video streaming service that connects over 250 million entertainment-seekers to their personal world of news and entertainment. Built on a clever player, intuitive algorithm, and on carefully-selected recommendations made by our experts who really (really) love great videos, dailymotion is the one-stop place for enjoying stories by/from the best creators around in one heightened video experience. Dailymotion is currently owned by Vivendi and headquartered in Paris with offices in New York, Singapore and Marseille.