October 28, 2019
|
Publishers
The Quint & Dailymotion Join Hands to Further Engage Indian Audiences with Video Solutions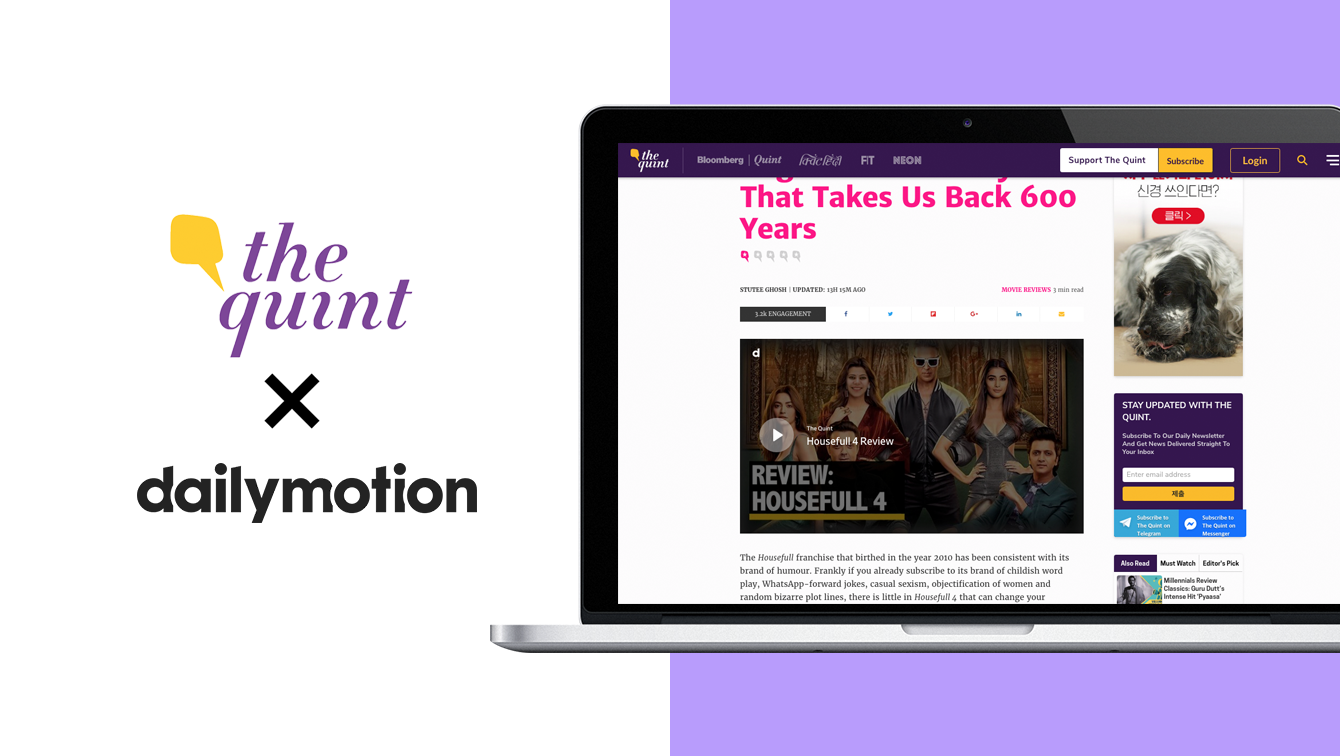 With Aims to Increase Revenue, Both Companies Team Up to Deliver Premium Video Experiences to Millennials in India
NOIDA, INDIA, October 28, 2019 — The Quint, a leading provider of digital news in India, announced its partnership with Dailymotion, a global content distribution and video technology company.  
Launched as a mobile-first news publisher, The Quint engages close to one million monthly active users across platforms, with its main traffic coming from those between 18 – 35 years old. As a nation with over 440 million Millennials who have high purchasing power and enjoy watching videos online, The Quint believes in growing its audience with relevant video content, to further engage with Indian Millennials.
Through Dailymotion's fully customizable video toolbox, The Quint can complement its content with videos to better engage its users and maximize its revenue. With Dailymotion's third-party publisher network, The Quint can now share video content across multiple properties without any additional costs.
Antoine Nazaret, Vice President of Dailymotion JAPAC, said, "We are extremely proud to partner with a successful media brand like The Quint, a reference in the digital and news landscape. The Quint's plan to grow their millennial audiences through videos aligns with Dailymotion's strategy to provide top-notch video solutions to drive publishers' goals."
"We are excited to go on a journey with Dailymotion. Leveraging their video technology, we aim to spread our quality videos through Dailymotion's network and thereby reach out to more audiences," said Ritu Kapoor, CEO and Co-Founder of Quintillion Media Pvt Ltd.
Partnering with The Quint marks Dailymotion's commitment to expanding its network of local publishers and premium content catalogue. Through its monetization technology, Dailymotion continues to support local publishers' as it strives to become the preferred video solution in the industry.
About The Quint
The Quint is a successful digital news platform in India covering a wide range of Indian news in English and Hindi targeting Millennials. The Quint's team is a collective of newshounds, maverick storytellers, editors, producers, designers, analysts, and reporters who have cut their teeth on the best news teams in the country. The Quint is self-funded and promoted by Raghav Bahl and Ritu Kapur, the founders of Quintillion Media Pvt Ltd.
About Dailymotion
Founded in 2005, Dailymotion is a global video streaming service that connects over 250 million entertainment-seekers to their personal world of news and entertainment. Built on a clever player, intuitive algorithm, and on carefully-selected recommendations made by our experts who really (really) love great videos, Dailymotion is the one-stop place for enjoying stories by/from the best creators around in one heightened video experience. Dailymotion is currently owned by Vivendi and headquartered in Paris with offices in New York, Singapore and Marseille.