February 25, 2020
|
Advertisers
Dailymotion Inks Deal with Yazle Media to Support Local Thai Advertisers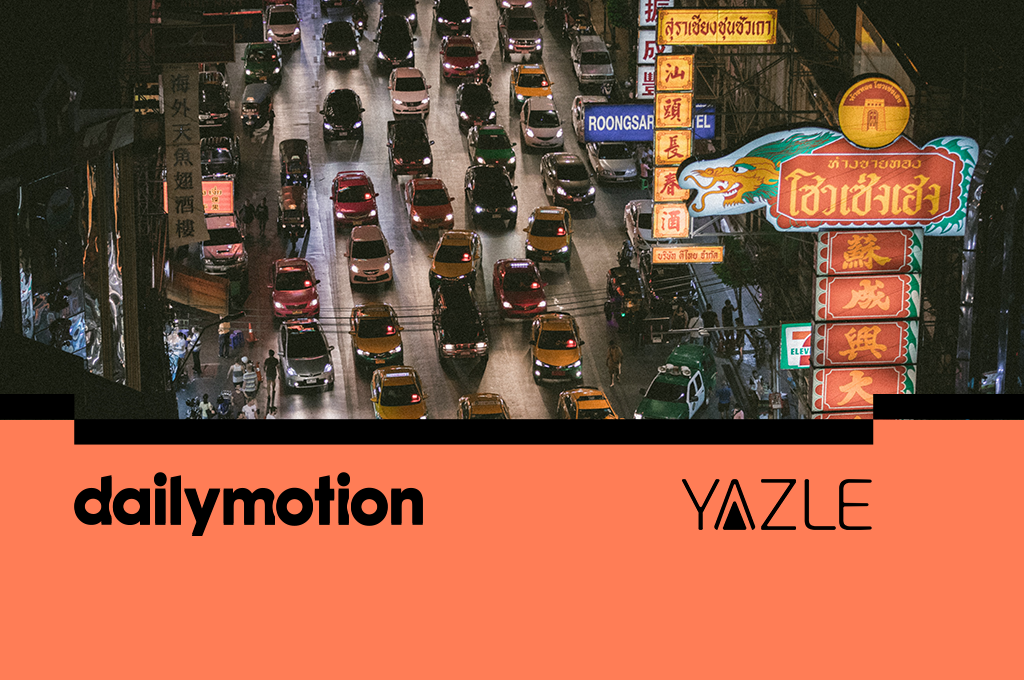 BANGKOK, THAILAND – 25 February 2020 – Dailymotion, a leading video solutions provider and content discovery platform has deepened its roots in the Thai market by collaborating with Yazle Media, a leader in digital advertising technology. With branches in over 9 markets globally and headquartered in Dubai, Yazle Media will be representing Dailymotion exclusively in Thailand to bring advertising solutions to local advertisers.  
Yazle Media is led in Thailand by Country Manager, Ms. Palatree Seethar, said: "We have a team of professionals with extensive experience in marketing and advertising that provide consulting to many world-class brands. Our goal is to enhance the creation of advertising campaigns through the world-leading video streaming platform of Dailymotion. We are confident that Dailymotion is the best choice for marketing executives, advertisers, agencies and brands that are looking for a video streaming platform that can deliver campaigns directly through premium content. Together with Dailymotion, we will be ready to work closely with customers, anytime, anywhere."
At Yazle Media, brand safety is of utmost importance. Natively integrated with third-party verification tools like IAS, MOAT and WhiteOps, Dailymotion is able to validate its content ensuring impactful advertising campaigns in a brand-safe environment. They are committed to omitting invalid traffic (IVT) and most importantly, Users Generated Content (UGC) will not be monetized and no advertisements will be published on such videos to maintain the credibility of the brand.
With over 20 highly recognized premium partners in Thailand such as GMM25, MCOT, Kapook and more, Dailymotion is committed to become the choice video solution for local publishers and partners in the region. Their advanced video streaming player can be customized to meet the needs of partners and effectively distribute video content on both partner's properties and Dailymotion's premium partner network.
"Dailymotion has been and will always continue to partner with leading content owners and media publishers in Thailand", commented Ms Nichaphan Thongphum, Thailand Country Manager of Dailymotion APAC. "We trust that Yazle Media is fully equipped to deepen Dailymotion's roots in Thailand and we will continue to onboard even more major media partners in 2020".
Dailymotion and Yazle Media are confident that integrating world-class digital advertising technology with major video streaming partners nationally will transform the presentation of ad formats within the industry. Together, Dailymotion and Yazle Media, are committed to upscale advertising campaigns and achieve results that are beyond the standard of Thailand's advertising industry.
About Dailymotion  
Founded in 2005, Dailymotion is a global video streaming service that connects over 250 million entertainment-seekers to their personal world of news and entertainment. Built on a clever player, intuitive algorithm, and on carefully selected recommendations made by our experts who really (really) love great videos, Dailymotion is the one-stop place for enjoying stories by/from the best creators around in one heightened video experience. Dailymotion is currently owned by Vivendi and headquartered in Paris with offices in New York and Singapore. 
About Yazle Media  
Yazle Media is a global digital media company that specializes in innovative, creative & KPI driven digital advertising campaigns. Established in 2013, the organization has grown into over 9 markets covering the majority of the GCC & APAC regions, with a vision to expand further. Yazle is proven to be an industry leader, providing its clients with unique digital ad-tech solutions. Through exclusive partnerships with elite digital platforms, they are the preferred partner for agencies & renowned brands across markets. An agile digital media company covering main pillars of media such as video, rich media, programmatic, geo and creative, they are driven by a passion for understanding its clients' needs & is backed by the drive to meet them with KPI-led solutions. The team offers bespoke solutions that are flexible and scalable to match the client's goals.