June 4, 2020
|
Advertisers
Dailymotion joins forces with Goodeed to market and distribute its solidarity advertising format to audiences in France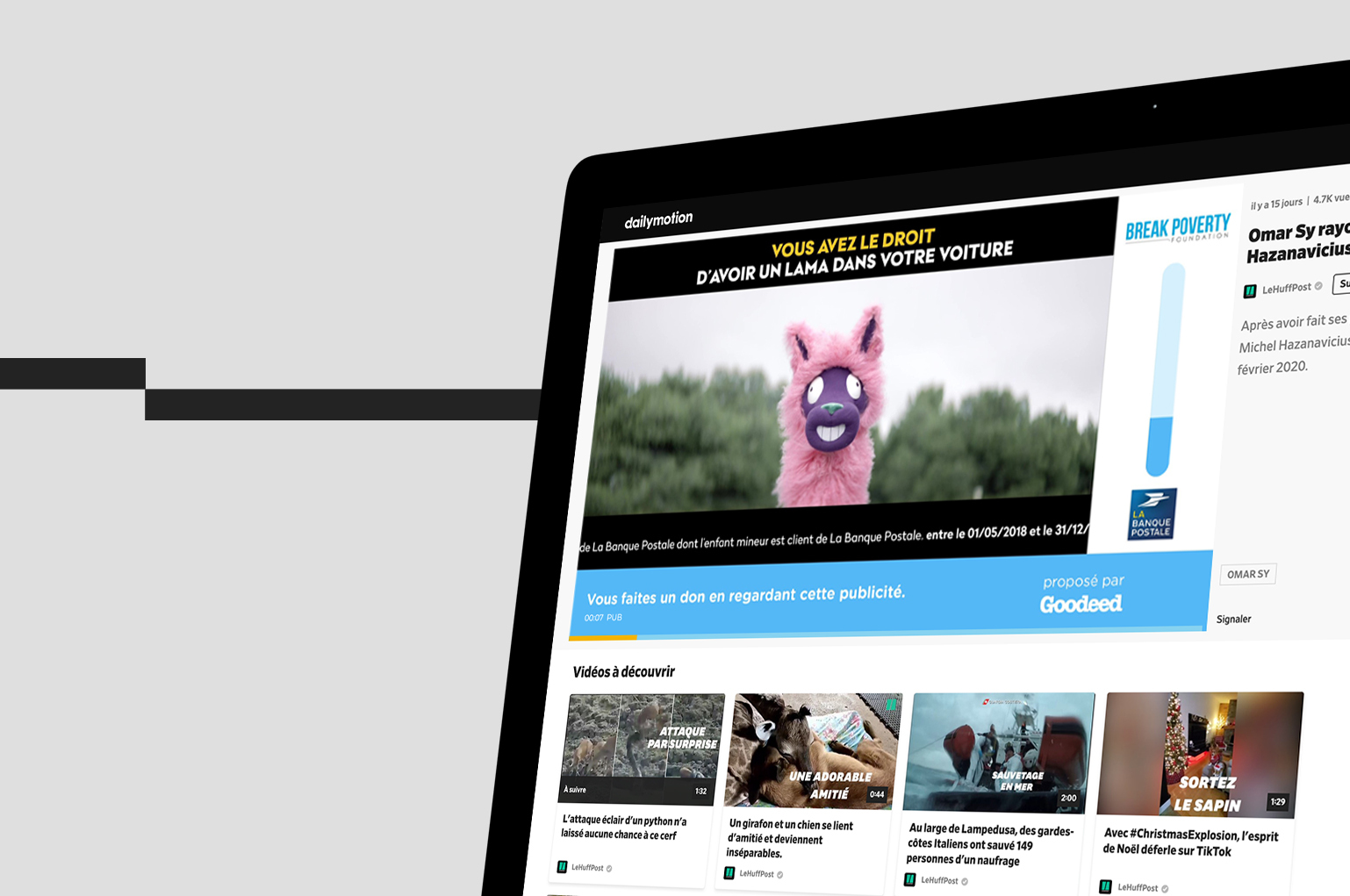 Dailymotion is proud to engage its audience and brands by becoming the first advertising solution to market Goodeed's solidarity advertising format for the benefit of associations and NGOs, including Les Restos du Cœur, Fondation des Femmes, Médecins Sans Frontières, Handicap International, Planète Urgence… among more than 170 associations that are Goodeed's partners. 
Since 2019, Goodeed allows advertisers to broadcast their programmatic advertising campaigns with its self-service solidarity format. Today, Dailymotion becomes the first advertising solution to co-create an offer designed to commercially amplify the Goodeed solidarity advertising format (integrated directly by NROLL, Dailymotion's creative studio) for agencies and advertisers. These solidarity campaigns will be distributed within the Dailymotion platform's instream video inventory and thanks to the strength of its network of partner publishers.
"This format allows companies to deliver their advertising message whilst donating to and supporting social and environmental initiatives of their choice. We are delighted that our Video Player and our sales force are pioneering the amplification of this positive initiative", says Baptiste Archambault, Director of Marketing & Growth at Dailymotion.
For each advertisement broadcast with the Goodeed solidarity format, part of the media budget invested by the advertiser is donated to an association selected in advance, including Les Restos du Coeur, la Fondation des Femmes, , Médecins Sans Frontières, Handicap International, Planète Urgence… or 170 partner associations.
Thanks to this format, brands gain in positivity and allow Internet users to contribute to a project by viewing an advertising video. According to a Viavoice study, 77% of French people are more likely to buy products and services from brands that communicate "For Good ". Equipped with a barometer, this solidarity advertising format also demonstrates a gain in positivity for the brand and its campaign: +7 points of approval for the advertisement, +5 points of certainty of purchase, and +20 points of approval for the message**.
Already more than €1,7M collected for 120 associations
Businesses have never been more involved in social and environmental initiatives. From this common positive momentum, between responsibility and solidarity, all agree on the conviction that their commitment makes a measurable contribution to their lives and performances. Goodeed, the French startup, aims to provide a simple solution for advertisers who wish to make a commitment with their advertising budget. Goodeed thus makes donations accessible to all via a proprietary platform (which brings together more than 340,000 members) and a network of partner publishers and agencies that covers several million Internet users every month.
"This partnership will create two very virtuous mechanisms. The audiences of Dailymotion and its partners exposed to advertisements with the solidarity format will be able to donate in a few seconds, the advertising becomes more pleasant and useful. And on the other hand, advertisers will be able to value and demonstrate their commitments (a determining factor for consumers today) by investing their media budgets in a more responsible approach", explains Vincent Touboul Flachaire, founder and CEO of Goodeed.
Sources:
*ViaVoice study for Goodeed & The Good Company, September 2019
**Yougov study for Goodeed, December 2019
*** Comscore TDAN for Dailymotion, March 2020