July 20, 2018
|
Advertisers
Dailymotion Presents "The Future of CTV Advertising"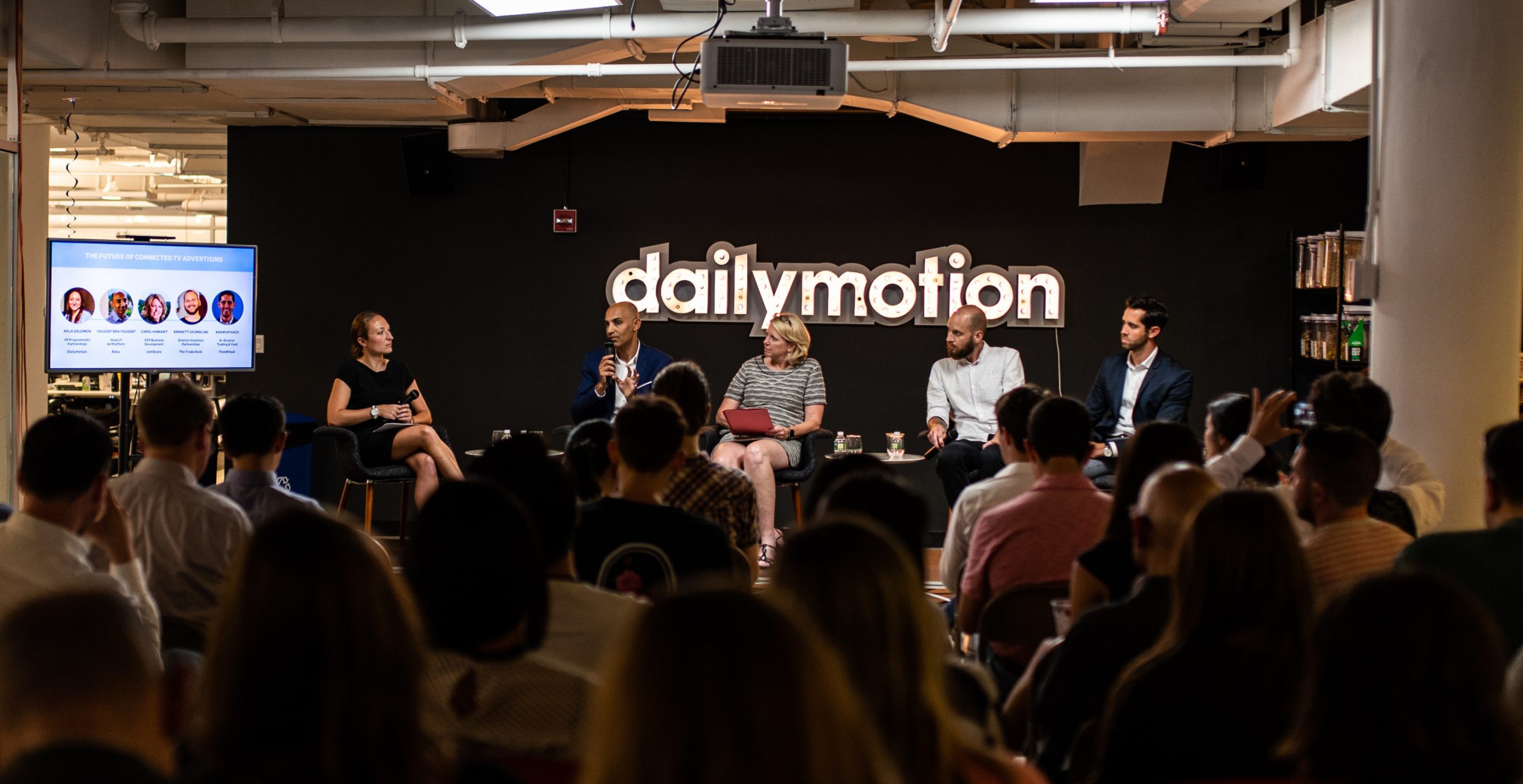 As a leader in video technology and premium content discovery, we at Dailymotion work together with key players in the space to ensure we are providing our publishers, advertisers and viewers with the most seamless and innovative experiences. In doing so, we've developed an ongoing event series that addresses the biggest challenges and trends with some of the top experts across the industry.
During our most recent event we tackled the ins and outs of one of the most rapidly growing trends in the video advertising space, connected TV (CTV) advertising. As users are increasingly cutting the cord and streaming TV content via connected TV devices, advertisers are adapting their ad strategies to efficiently reach their desired audiences.
Panelists included Carol Hinnant, SVP Business Development at comScore; Youssef Ben-Youssef, Head of Ad Platform at Roku; Bennett Crumbling, Director Inventory Partnerships at The Trade Desk; Adam Spivack, Sr. Director of Trading & Yield at FreeWheel; and moderated by Nola Solomon, VP Global Programmatic & Strategic Partnerships at Dailymotion.
As the discussion started to take shape, a few key components of CTV advertising began to stand out – how are consumers reacting to this new platform? What does this mean for ad spend? Will this be the way of the future for traditional TV advertisers?
Dailymotion's Nola Solomon dove right into the conversation with Ben-Youssef asking about what Roku is seeing in terms of viewers' preference when it comes to ad-supported content vs. subscription based models. Ben-Youssef noted that, "Most people want to see free stuff. They don't mind the ads if they are relevant to them." Based on the impressions Roku is seeing across its platform, it's become very apparent that the trend towards consuming ad-supported content is growing.
Bennett Crumbling supported this notion, taking note of diverse global audiences and the limitations in spending on subscription-based models. Income levels and the ability to afford a service is just not possible for most households around the world. Crumbling went on to say, "Ad-supported video delivery is a natural fit when you have a growing middle class." While platform accessibility is crucial to consider, comScore's Carol Hinnant argued, "Audiences are not platform loyalists as much as they are content loyalists. Wherever that content is, that's where viewers are going to go. If you're a heavy content viewer, you're going to watch more."
Providing viewers with premium, brand-safe content is key for publishers and advertisers to ensure that viewer eyeballs are following them across platforms. The OTT game is winning in this due to the quality content that consumers are deeply connecting with, creating a culture of binge-watching and live streaming. Netflix has proven this with its recent announcement of over 100 Emmy nominations this year. FreeWheel's Adam Spivack also solidified this trend when he mentioned that over half of content consumed on CTV devices is live streamed content with the second largest being long-form content.
Development of more platforms for consumers to view content live as well as on demand "has created this interesting challenge for our publisher clients who are trying to follow the eyeballs and figure out how to put back together what is now a fragmented audience for them and try to capture that total audience once again" said Spivack. He went on to explain, "People aren't watching less TV they're just watching it in different places and now it's about recapturing that audience."
In addition to publishers reconnecting fragmented data, the panel also agreed that OTT and CTV advertising is creating an educational moment for buyers. Solomon asked, "As we're watching users move away from linear into OTT ways, CTV specifically, of consuming content, how has that shifted the demand landscape and the demand for that inventory?"
"The demand and scale for CTV has really grown over the last 18 months," Crumbling responded, "A lot of our clients are creating new strategies to plan for this type of media and learning how to measure its success. Programmatic is a natural fit for CTV because it enables buyers to create more data-driven campaigns and activate holistic measurement that isn't available with linear TV." Hinnant felt differently explaining, "CTV is more linear in nature than it is digital. There are more opportunities to mimic the linear TV landscape in terms of advertising with the one big exception of addressability which is really connected everywhere."
The discrepancies and challenges that CTV devices bring to the table call for education to buyers and sellers. Ben-Youssef took ownership of this saying "It is the responsibility of platforms like Roku to make things easier for buyers and sellers to transact including tools like measurement." While inherent digital sales teams were fully onboard with CTV and caught on quickly, the panel discussed the challenges that many traditional linear sellers and buyers were facing in learning what it actually was and how to adapt to this new model. "Education [for CTV] is more about mapping the terms that buyers are used to seeing from traditional TV and correlate them with the OTT platform."
So what does this mean for the future of CTV advertising? In closing, Solomon asked the panel to share their predictions of where we will see CTV advertising in the next 1-2 years.
In regard to publishers and brands, Ben-Youssef predicted, "The maturity of publishers and how they package up and present their inventory will also enhance. Sales guys will get more comfortable with OTT and big budgets will shift towards it." Hinnant remained loyal to her initial comments on the importance of content saying, "Content will remain king. Consumers' eyeballs will shift where their content is."
In the end, panelists unanimously agreed that OTT will continue to dominate and we will continue to see a rapid increase in consumers moving from linear over to CTV.
Click here to listen in on the full discussion via Dailymotion.com. Join our Meetup group here for updates on our next Dailymotion event. We hope to see you there!