December 17, 2019
|
Advertisers
Dailymotion Releases Industry-First Video Ad Format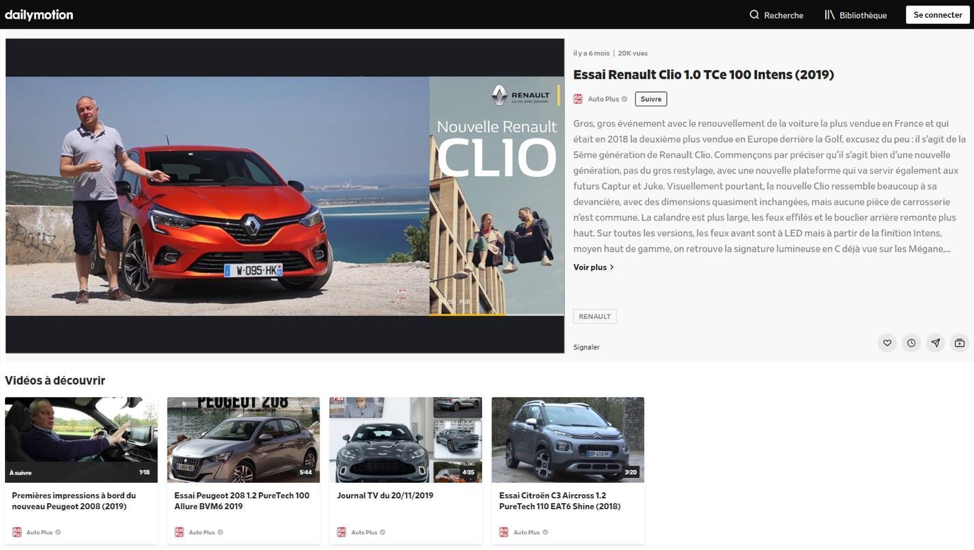 NEW YORK, December 17, 2019 — Dailymotion, a Vivendi-owned video platform dedicated to creating a trusted home for premium video content that matters, today announced the launch of their new ad format "VerticalVue by Dailymotion." The innovative ad format will allow vertical advertisements to simultaneously play alongside publishers' video content for a seamless watching experience within the Dailymotion video player.
Unique to Dailymotion, the new format will help brands increase ad effectiveness by maximizing viewability and completion rates while providing viewers with a non-disruptive experience. Advertisements are automatically muted unless a user hovers over it, giving consumers full control over their ad experience. Brands will be able to use existing creatives they have developed for other vertical ad formats such as Instagram Stories and Snapchat with VerticalVue. As Dailymotion owns its video player and the tech stack behind it, the company was able to develop this ad format in-house avoiding technical complexities.
Among the first to utilize this format is French multinational automobile manufacturer Renault through its media agency OMD. Over four weeks, Renault leveraged VerticalVue by Dailymotion across desktop. The goal of the campaign was to increase awareness of their new Renault Clio, while respecting the user's watching experience. As a result of this beta test, Renault saw a completion rate of 97 percent and a viewability rate of 87 percent.
In a study with Harris Interactive, Dailymotion found its new format had higher user attention and positive user experience. Highlights include:
72 percent of viewers were attentive to the ad (compared to 60 percent for classic pre-roll)
76 percent of viewers found it innovative
69 percent of viewers found it less intrusive than other formats
72 percent of viewers found it well adapted to their viewing experience
"With new platforms giving consumers more options than ever for content consumption, advertisers are emphasizing quality and engagement to drive performance and attract viewers," said Bichoi Bastha, chief ad tech officer at Dailymotion. "Superior and respectful user experiences are key to lifting up sales for the most successful brands today. Through the introduction of VerticalVue, we're creating a consumer-first experience within premium, brand-safe content for advertisers to convert and acquire customers."
"We are committed to testing all the innovations on the market in order to maintain our lead in digital and work on impactful formats that are better accepted by Internet users. The Dailymotion VerticalVue format test is interesting in this context because it allows us to use a vertical format in a horizontal context. The first lessons are encouraging in this approach, which focuses on the context and quality of exposure," confirmed Damien Prybis, Head of Digital Trading at OMD.
Watch the VerticalVue ad format here (ad starts at 00:19).
Prior to VerticalVue, Dailymotion launched pre-roll format FAST IMPACT empowering users with the ability to fast-forward an ad directly to the key message. The company continues to experiment with various solutions and technologies to create the ideal format for ad effectiveness and non-intrusive user experiences.
For more information about Dailymotion's unique ad formats visit www.dailymotionadvertising.com/campaigns.html
About Dailymotion
Dailymotion is the video platform for discovering the events and ideas that keep the world surprising and diverse on four main topics: news, sports, music, and entertainment, as well as comedy skits, political debates, fashion shows, gaming live-streams and more. Launched in 2005, Dailymotion commands a global audience of 250 million entertainment-seekers who frequent the site and its dedicated mobile experience to surface the most relevant professional video content based on their unique tastes and interests. Dailymotion is owned by Vivendi, a Paris-based multinational media company. For more information, visit www.dailymotion.com.
About OMD
OMD combines innovation, creativity, empathy and insights to accelerate our clients' business: "Better decisions, faster". Our customers learn and react faster to create stronger connections with their consumers. With more than 12,000 employees in more than 100 countries, OMD is the largest network of media agencies in the world. Named 'Global Media Agency of the year 2019' by Adweek, OMD is also the most effective network of agencies in the world according to the Effie Effectiveness Index. OMD is an agency part of Omnicom Media Group, the media division of Omnicom Group, Inc. (NYSE: WTO). For more information, please visit http://www.omd.com/