December 9, 2020
|
Advertisers
Givenchy tested « Vertical Video », Dailymotion's new mobile ad format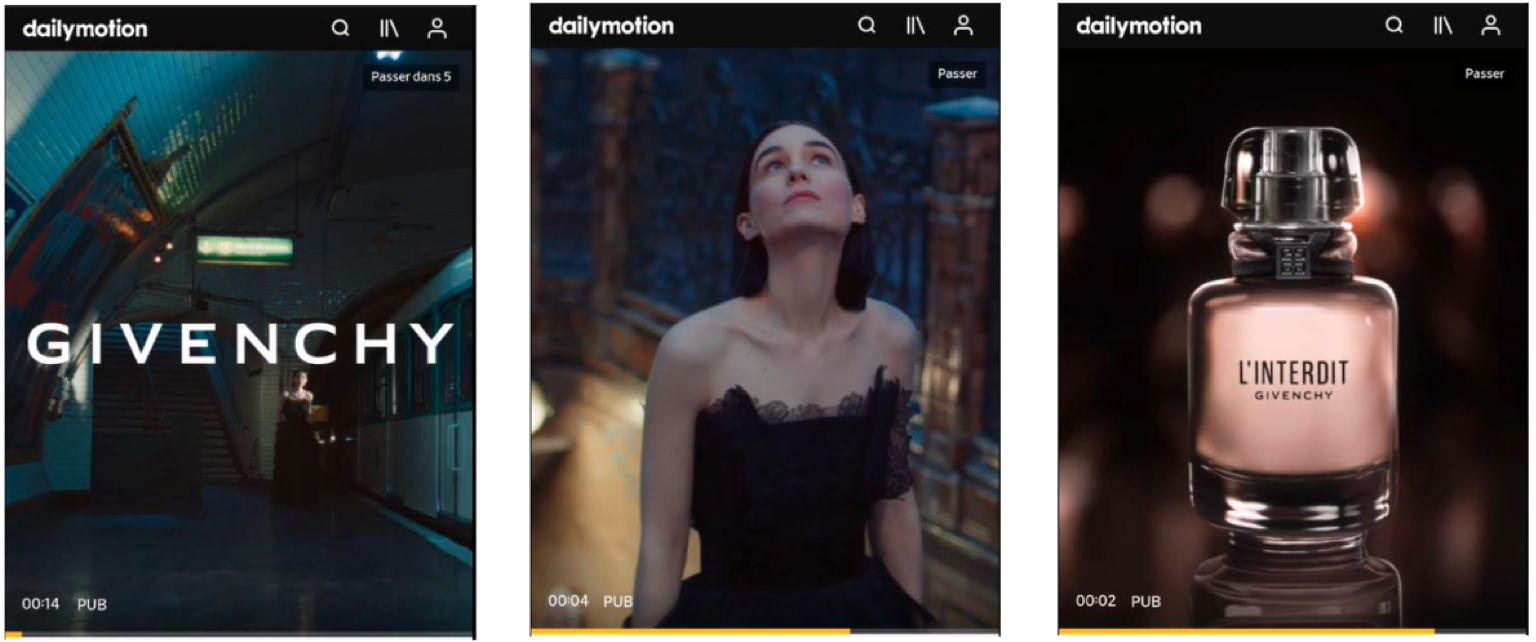 Vivendi-owned video platform Dailymotion has added Vertical Video Ad format to its robust advertising offering. The format spans the full length of a user's mobile device, addressing advertisers' biggest pain point: finding a way to seamlessly integrate content with the user experience while successfully delivering their message. Dailymotion's new format, which sparked high viewability and completion rates in campaigns with Givenchy, comes as fifty-three percent of brands were recently found to be leaning into vertical ad formats (IAB study). 
Through this launch, Dailymotion provides advertisers the opportunity to leverage their existing vertical creatives used on other social media platforms, extend their social campaigns to a premium environment, and maximize reach by delivering vertical ads across desktop and mobile. Additionally, it enables advertisers to drive meaningful results by reaching target audiences in an immersive way.
"Today, one in five young adults define themselves as 'mobile only'," explains Bichoï Bastha, CBO at Dailymotion. "Vertical advertising has been made for these new uses by responding to the codes of social networks. The result: better engagement rates and up to +15 points in brand attribution. Our goal with Vertical Video is to reconcile new generations with advertising to enable advertisers to more effectively reach this essential target for their business."
Vertical Video: benefits for Advertisers
Offers the ability to extend vertical campaigns to a premium, non-social, and suitable environment
Allows the use of existing vertical creatives or the capability to develop custom units that drive attention and brand recall through Dailymotion's internal creative studio, NROLL
Creates an opportunity to extend social campaigns across devices, at an even larger scale by leveraging both Vertical Video on mobile and Dailymotion's award-winning format VerticalVue on desktop
First campaign with Givenchy
In campaigns this September, French luxury fashion and perfume house, Givenchy used Vertical Video to promote its perfume, "L'Interdit" and saw high viewability and completion rates. Givenchy leveraged Dailymotion's contextual targeting capabilities to link its ad to relevant beauty, personal care, style and fashion content. Givenchy's campaign drove 76 percent viewability scores, +5 points, in comparison to horizontal formats, and 77 percent completion rates, +7 points in comparison.
"As a luxury brand, creativity and innovation are at the heart of our beliefs and our ad formats should be reflective of that. We are delighted to work with partners like Dailymotion to ensure our campaigns make an impact and differentiate us," said Elise Miramon-Wilhelm, Digital Media Project Manager, Parfums Givenchy.
In a study with Happydemics*, a French independent market research provider, to identify the impact of the Vertical Video ad format on the user experience, Dailymotion uncovered a very positive reaction from consumers. Highlights include:
Ad Perception – When compared to the classic format (horizontal), Vertical Video had a better impact on the user experience, with users finding the format more adapted to their viewing experience (+5 pts versus horizontal format).
Attribution – Respondents exposed to the vertical format better attributed the ad to Givenchy (+15 pts versus horizontal format).
Intent – Users exposed to the format had a higher intent to go to the store looking for the product (+2 pts versus horizontal format).
Vertical Video is available globally, on the mobile web and dailymotion.com for direct and programmatic transactions.
*Methodology
Happydemics conducted a study through an online questionnaire that surveyed 500 people between the ages of 25 and 49. The study was commissioned by Dailymotion to measure the effectiveness of the Vertical Video Ad Format for Mobile versus horizontal video ad format for mobile. Respondents were split into two groups to watch the Givenchy advertising campaign: vertical video format viewers and horizontal video format viewers. Results were analyzed by comparing answers of the two groups and evaluating the impact of Vertical and horizontal pre-roll through different KPIs such as recall, ad attribution, brand perception, consideration and intention. Fieldwork was undertaken from September 5, 2020 to September 16, 2020.