November 25, 2019
|
Publishers
Dailymotion & CTS Join Hands to Share Taiwanese Content to the World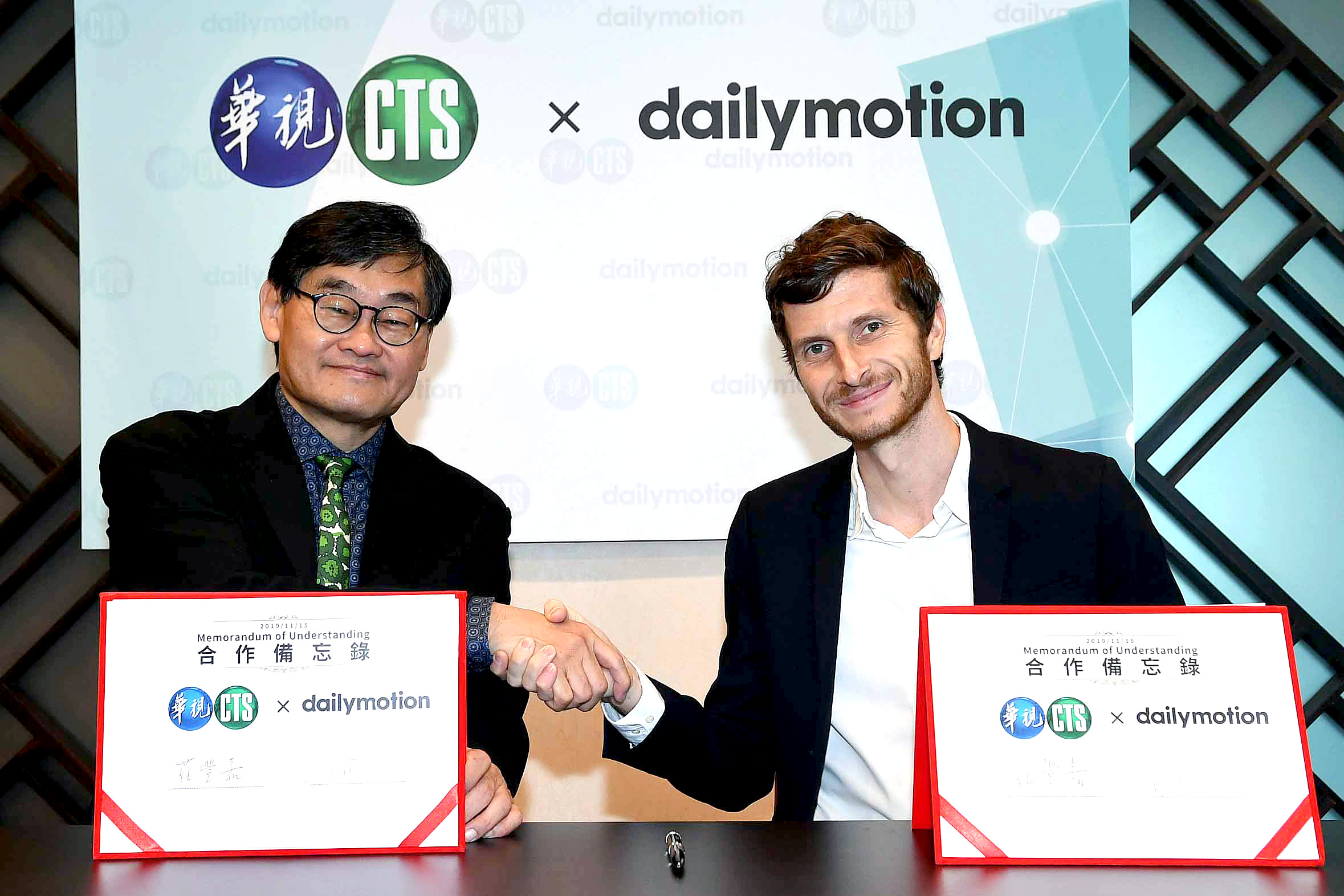 TAIPEI, TAIWAN, November 25, 2019 — Dailymotion, a leading video solutions provider and content discovery platform, officially inked their partnership with Chinese Television System (CTS), one of Taiwan's largest television broadcasters. Together, they strive to bring premium Taiwanese content to a global stage, expanding their audience on an international level.  
Bringing content from news, entertainment, lifestyle and many more, CTS content has well-engaged with its local audience for decades. Through Dailymotion, they will continue to expand and reach audiences in various locations across the globe, sharing their plethora of premium content with the world.  
As part of Vivendi, Europe's leading media and content group, Dailymotion has a worldwide presence, including Europe, North America and Asia Pacific.  
"We believe there is so much potential in this partnership," commented Antoine Nazaret, Vice-President of Dailymotion, APAC, "and we will strive to support CTS in the sharing and distribution of content and advertising, where our core mission is to enhance our partners' video strategy." 
"As the largest video discovery platform in Europe, we are excited and hopeful to see this partnership grow, and bring CTS's library of premium content to even more audiences around the world", said Leon Chuang, General Manager of CTS.  
Dailymotion is committed to support local partners like CTS in the region, and will continue to bring premium content to a global stage. This partnership with CTS further marks the movement of Dailymotion in the Taiwanese market and strive to grow its foothold in the region.  
About Dailymotion 
Founded in 2005, dailymotion is a global video streaming service that connects over 250 million entertainment-seekers to their personal world of news and entertainment. Built on a clever player, intuitive algorithm, and on carefully-selected recommendations made by our experts who really (really) love great videos, dailymotion is the one-stop place for enjoying stories by/from the best creators around in one heightened video experience. Dailymotion is currently owned by Vivendi and headquartered in Paris with offices in New York, Singapore and Marseille. 
About CTS
Chinese Television System (CTS) has been established over then 45 years, and was considered one of the most influential terrestrial TV channels in the early days of Taiwan TV industry. For more than 45 years, CTS,  a leading TV channel broadcaster has earned its reputation with a wide range of various successful program productions within the industry. CTS has won numerous awards from both governmental and societal organizations in Taiwan for its well-known high quality programs, consisting of drama, variety show, news, educational programs and more.