February 3, 2020
|
Publishers
Dailymotion & JPIMedia announce global video technology partnership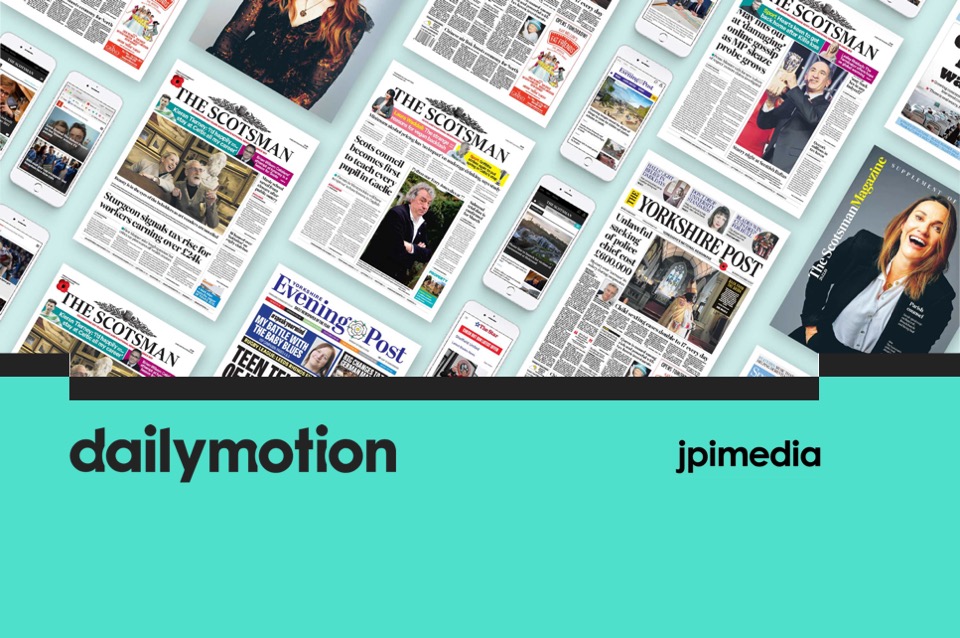 London, UK — February 4, 2019 — Dailymotion, the leading video technology provider has announced a strategic partnership with JPIMedia, one of the largest national, regional and local multimedia organisations in the UK. Its flagship brands include The Scotsman, The Yorkshire Evening Post, The Sheffield Star, The Sunderland Echo, The Portsmouth News, The Edinburgh Evening News and The Belfast News Letter.

Through this global partnership, JPIMedia has fully integrated Dailymotion's video solution across its properties of over 150 digital news titles. The technology package includes a robust white-label video player and digital ad-tech services offering JPIMedia full flexibility on the commercialisation of their video inventory through Dailymotion's unique economic model. Using Dailymotion's advanced video solution technology not only allows JPIMedia to have a more robust video player, but also helps to engage audiences and increase revenue opportunities. 
With Dailymotion's cutting-edge video solution technology, JPIMedia will have a more robust video player, which will also help engage audiences and increase revenue opportunities.
This partnership also includes an agreement on content syndication for all JPIMedia brands on www.dailymotion.com with the objective to increase audiences outside of their environments and drive visitor engagement to Dailymotion's video platform.
"Video player is the most crucial asset for us at Dailymotion. It's therefore our priority to provide tools and services allowing publishers to have complete control of their media properties. This partnership agreement with JPIMedia is an important step as part of Dailymotion's strategy to collaborate with media publishers across the United Kingdom and throughout Europe" said SVP Content, Stéphane Godin at Dailymotion.
Dailymotion is the main player technology and video discovery platform for media groups across the globe such as l'Equipe, One India, BeIN SPORTS, Meredith Corporation, YAN News, Groupe Le Monde and many others.  Its video platform commands a global audience of 300 million entertainment-seekers surfacing the most relevant professional video content. 
JPIMedia's Chief Digital Officer, Nigel Leigh, commented "we're delighted to have chosen to work with Dailymotion, this partnership has allowed us to further enhance the digital offering to our 3m daily users, where we can drive our video distribution forward and utilise additional revenue streams."
Committed to supporting renown publishers within the region like JPIMedia, Dailymotion believes that its video technology solutions will continue to enrich the content of publishers, to expand their digital footprint and reach a global audience.
About Dailymotion  
Founded in 2005, Dailymotion is a global video streaming service that connects over 250 million entertainment-seekers to their personal world of news and entertainment. Built on a clever player, intuitive algorithm, and on carefully-selected recommendations made by our experts who really (really) love great videos, Dailymotion is the one-stop place for enjoying stories by/from the best creators around in one heightened video experience. Dailymotion is currently owned by Vivendi and headquartered in Paris with offices in New York, Singapore and Marseille.
About JPIMedia Ltd
JPIMedia is one of the largest national, regional and local multimedia organisations in the UK. We provide news and information services to our communities through our portfolio of hundreds of publications and websites. Our titles span the UK, Scotland, North East, West Yorkshire, North West, South Yorkshire, South, Midlands and Northern Ireland – delivering trusted coverage of  news, sport, events and information.